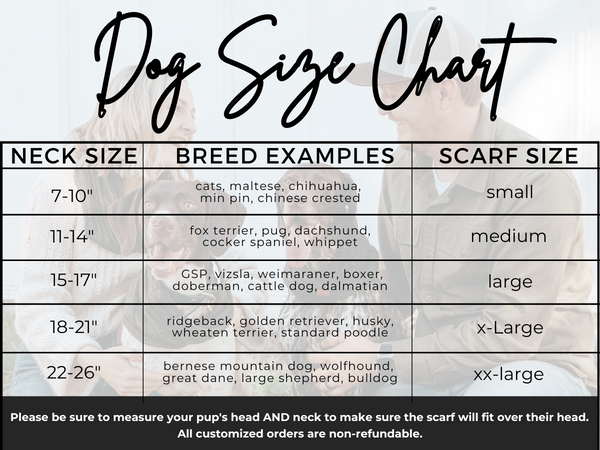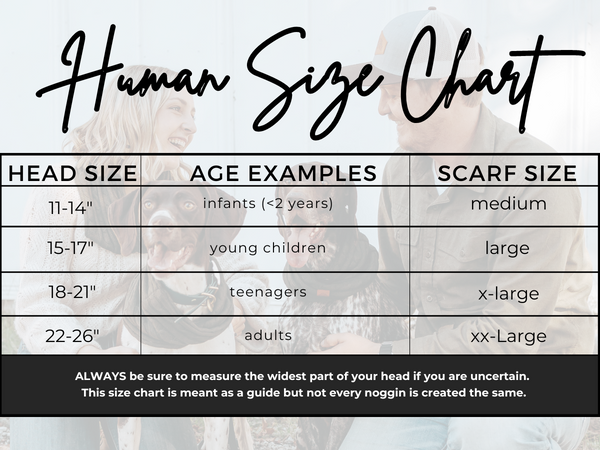 Scarf Weight: 

All scarves are classified by weight ranging from light weight to heavy weight. You should expect heavier scarves to fit snugger. 

The Frasier Scarf is a medium weight cotton flannel.
How to Size for Dogs: 
Measure the thickest part of your dog's neck or head.
Account for fluff - if your pet is between sizes, go up! Long haired dogs (shepherds, goldens) almost always need to size up.
Pay attention to the weight listed above - heavier scarves will have a tighter fit.
View

 

sizing guide

 

to determine final size. Please remember, not every breed will fit perfectly into each category. Measuring your dog is the best way to ensure a good fit.
How to Size for Humans: 
Measure the circumference of your head.
Size recommendations: Adults (XXL), Teenagers (XL), Young Children (L), Infants (M)
If you have doubts, PLEASE measure your children. 
Our Recommendations When Ordering: 

If this is your first time and you are unsure of your dog's size, please refrain from customizing your scarf with a nametag. Once your scarf is customized, it is no longer available for exchange/refund. If you need help determining you dog's scarf size, please feel free to reach out at info@pacifichound.com 
**CUSTOMIZED SCARVES ARE NOT AVAILABLE FOR EXCHANGE/REFUND**

Care:

Wash all scarves without a leather nametag in cold water & lay flat to dry
Scarves with leather nametags must be washed by hand
Pictured Dogs:
Corgi - size large

GSP - size large
Human - size xx-large