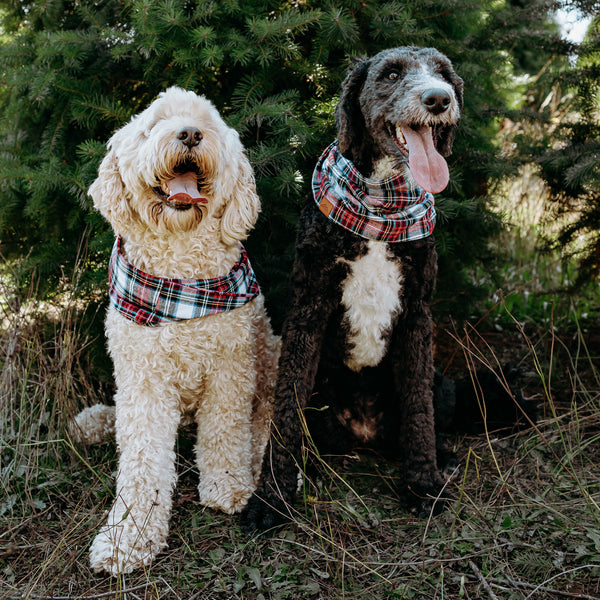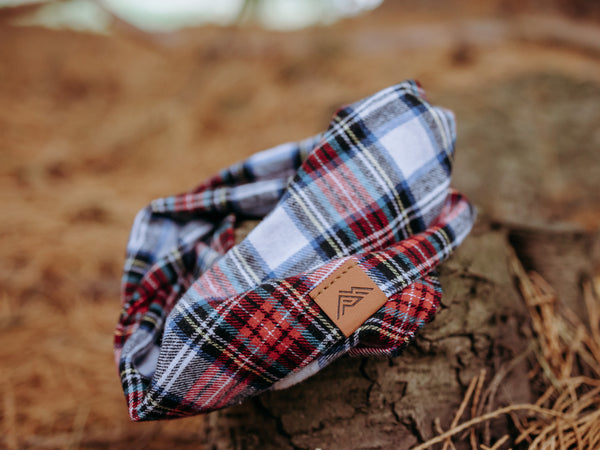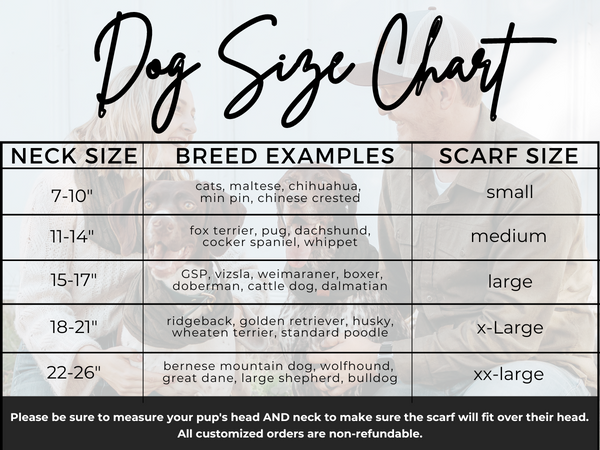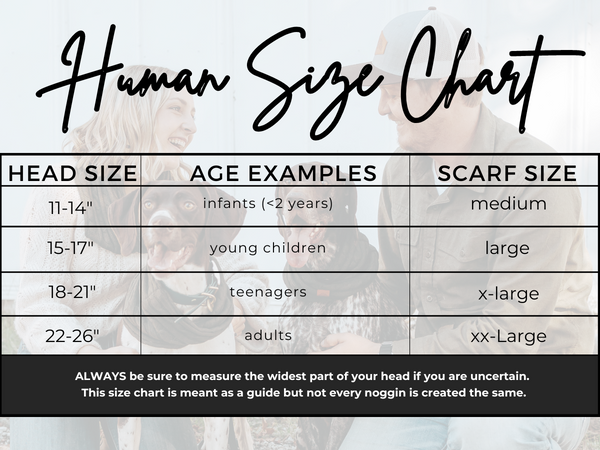 Scarf Weight: 

All scarves are classified by weight ranging from light weight to heavy weight. You should expect heavier scarves to fit snugger. 

The Avery Scarf is a medium weight cotton flannel.
How to Size for Dogs: 
Measure the thickest part of your dog's neck or head.
Account for fluff - if your pet is between sizes, go up! Long haired dogs (shepherds, goldens) almost always need to size up.
Pay attention to the weight listed above - heavier scarves will have a tighter fit.
View

 

sizing guide

 

to determine final size. Please remember, not every breed will fit perfectly into each category. Measuring your dog is the best way to ensure a good fit.
How to Size for Humans: 
Measure the circumference of your head.
Size recommendations: Adults (XXL), Teenagers (XL), Young Children (L), Infants (M)
If you have doubts, PLEASE measure your children. 
Our Recommendations When Ordering: 

If this is your first time and you are unsure of your dog's size, please refrain from customizing your scarf with a nametag. Once your scarf is customized, it is no longer available for exchange/refund. If you need help determining you dog's scarf size, please feel free to reach out at info@pacifichound.com 
**CUSTOMIZED SCARVES ARE NOT AVAILABLE FOR EXCHANGE/REFUND**

Care:

Wash all scarves without a leather nametag in cold water & lay flat to dry
Scarves with leather nametags must be washed by hand
Pictured Dogs:
Adorable!!!
Purchased this for our GSP and could not be happier. It is the best fit and he looks incredibly dapper for the holidays! He's literally had it on since we opened it, no fuss, so I know even he thinks he looks good :0) Thank you!
LOVE these scarves!
I bought just one and absolutely love it! I've now ordered 2 more and waiting for them to come in!
Love the colors! Wish it was a little thicker.
So cute!