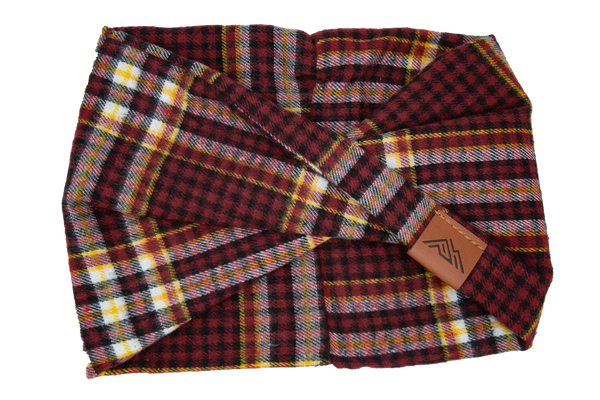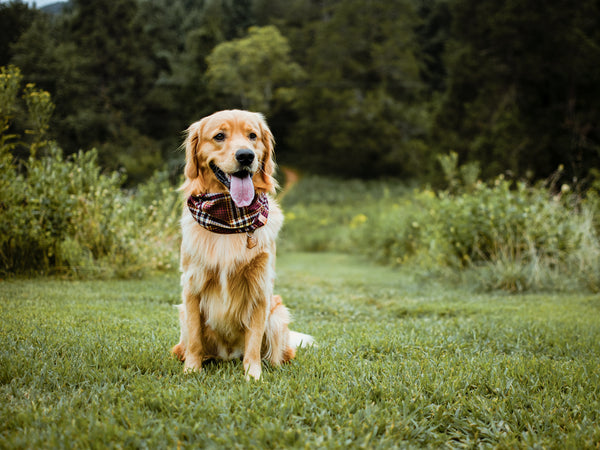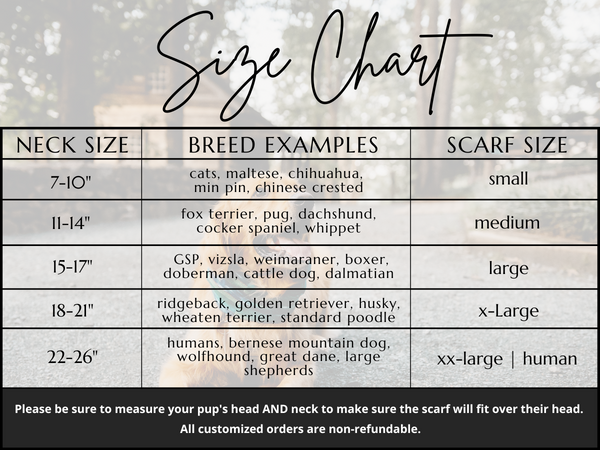 Regular price
$15.00
Sale price
$23.00
Cold weather calls for cozy scarves and thankfully Pacific Hound has you covered! The bandeau scarf is unique to Pacific Hound and is our flagship product introduced in 2015. All scarves have a built-in twist and loop around your dog's neck one time. Scarves are complimented with our signature vegan leather mountain tag. When you're ready to adventure, simply slip your Pacific Hound scarf over your dog's head and you're ready to go.
All scarves are classified by weight ranging from light weight to heavy weight. You should expect heavier scarves to fit snugger. 
The Maple Scarf is lightweight and flannel.
How to Size: 
Measure the thickest part of your dog's neck or head.
Account for fluff - if your pet is between sizes, go up! Long haired dogs (shepherds, goldens) almost always need to size up.
Pay attention to the weight listed above - heavier scarves will fit snugger.
View

 

sizing guide

 

to determine final size. Please remember, the guide is simply that and not every breed will fit perfectly into each category. Measuring your dog is the best way to perfect you dog's scarf fit. 
Our Recommendations When Ordering: 
If this is your first time and you are unsure of your dog's size, please refrain from customizing your scarf. Once your scarf is customized, it is no longer available for exchange/refund. If you need help determining you dog's scarf size, please feel free to reach out at info@pacifichound.com 
**CUSTOMIZED SCARVES ARE NOT AVAILABLE FOR EXCHANGE/REFUND**

Care:

Wash all scarves without a leather nametag in cold water & lay flat to dry
Scarves with leather nametags must be washed by hand
Just right!
It was so special to bring my new puppy home and have his name on his new lovely scarf. When I received it I thought it might be too small but it was just right for all of his two pounds! Will be wearing this week. Thank you, now my little one can match with his big siblings!
Amazing!
These scarves are amazing and sooo cute for fall! I always get compliments on it anytime I wear it on my pup! And they wash very easily too so bonus!
PERFECTION
I love this for fall! The maroon with hints of yellow is perfect! Love the look of this scarf and the high quality.
Perfect scarf for Fall!
This is the 3rd scarf I have purchased from Pacific Hound. Clearly, I'm a big fan! My pup looks so cute for Fall and I love all the new prints you have in stock. Thank you!
Love Our Maple Scarf!
This scarf is so soft, not too heavy - but still warm, and so stunning! My pup is black so I am always careful to buy items that are going to "pop" (although this is never a problem with the PH scarves) and this scarf did not disappoint. The colours are vibrant and remind me of candy corn. Honestly, I think it's my favorite PH purchase to date!