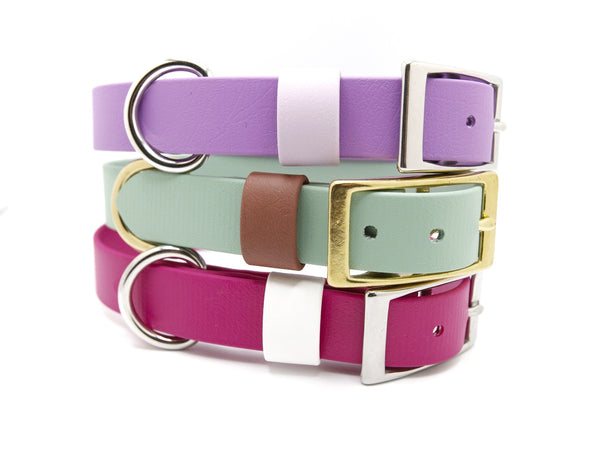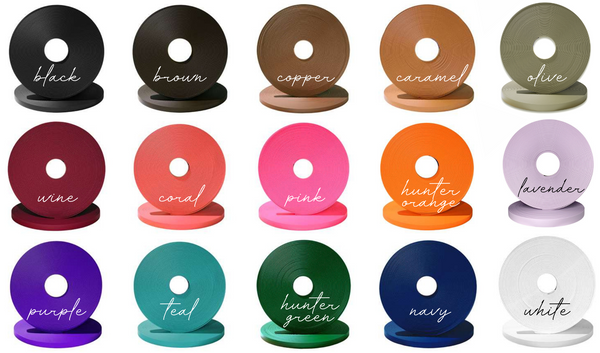 Our Journey Series is designed for the dog that likes to get neck deep in mud, swim in all the ponds, and run through the forest at their heart's content. All collars are 1" in width.
Made from BioThane:
Vegan
Stink Proof
Mold Proof
Water Proof
Hardware:
Stainless Steel - ideal for any and all adventures!
Solid Brass - ideal for any and all adventures!
Pictured (1): lilac with lavender, sage with copper, and fuchsia with whitePictured (2): pinkPictured (3): caramel with olive
Best for active, dirty dogs!!
I've had this Journey collar for my GSP for over a year. When I say he's put it to the test that is an understatement! This collar has been swimming through lakes and rivers, rolling in giant mud puddles, and even through cow dung! (See in my photo how dirty my dog is!!) SO easy to clean and always back to new. The solid color is a great contrast, and I LOVE how it has a separate clasp you can attach a tag to (so it's not on the same loop as a leash attachment. 10/10 recommend!
Not meant for smaller dogs
I ordered this collar for my 31lbs goldendoodle. The hardware is heavy and the thick 1" leather makes it so he keeps scratching at the collar. I also gave the measurement for my dogs neck when ordering. The collar arrived but I need to use the largest hole on the buckle to make it fit my dog. I wish it was slightly longer so I could use a middle hole.
Beautiful collar
I bought the Journey collar in pink with brass hardware. It's a lovely, vibrant color that really pops, and the brass hardware is beautiful. I have had biothane leashes in the past and wanted a collar of the same material because of how durable and easy to clean it is. Highly recommend the Journey collar for anyone looking for a classic collar that will last a lifetime!
Love These Collars!!!
Bought the purple and hunter green Journey Collars for my pups. Love the quality of the work and the materials. They are durable and easy to clean. They fit well and I like the variety of colors to choose from. My pups use them regularly on their walks. I ended up buying another pair for my pups in the pink and hunter orange. Such bright and fun colors!!!